! UPCOMING PLANNED SYSTEM MAINTENANCE:
We are migrating our systems to a cloud environment to enhance the service we provide. The site will be temporarily unavailable on July 15th, 2020 to complete this upgrade. The site will be back online by 8:00 AM EST on July 16th, 2020. We appreciate your patience during this downtime. If there are any questions about this downtime, please email AUUserSupport@Hq.Doe.Gov or call (800) 473-4375. Thank you.
Safety Issues Management System
As mandated by the Homeland Security Presidential Directive 12 (HSPD-12), Office of Management and Budget (OMB) M 05-24, and Department of Energy (DOE) O 206.2, the Office of the Chief Information Office (OCIO) Office of Environment, Health, Safety and Security (EHSS) has implemented software and configuration changes that will obligate users to log on to their web applications with their HSPD-12 credentials.
If you currently have a PIV/PIV-I card, you may use the link below to login to the SIMS website or register for the SIMS website.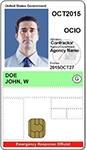 Login Using Your PIV/PIV-I Card
Note: For your PIV/PIV-I card to work, you MUST install your card reader and insert your PIV card before attempting to login.
User Guide